Adult Reading Challenge!
 March 20, 2023 through April 29, 2023
All items must be read at an appropriate adult reading level. Must be 18 or older to participate.

Read Books of your choice.  (E-content read through Libby, as well as audio




selections are included as well.)

5 magazines are considered one entry.

Books completed during each of the weeks can be entered into the weekly drawing for a $10.00 gift card.

More than one book can be submitted during the week.

All entries from the program will be combined at the end of the program and a drawing will be held for a $50.00 gift card.
Welcome
To the heart of our community where you can come to grow, learn, discover, create and connect! We are passionate about our work at Ladoga-Clark Twp. Public Library where our mission is to:
Promote education and lifelong learning
Encourage personal enrichment
Support a vibrant quality of life within our community
Be responsible stewards of the community resources entrusted to us
Our collection holds approximately 19,000 volumes of book and magazines for all ages.
You must have your library card at all times to check out a book. Books may be renewed or placed on hold online. Log into your account and use the bar-code number on your library card and your password you received when you got your new card.
Covid-19 Safety Updates (Updated 02/24/2022)
Masks are currently optional while in the building.
Library Hours
Below you will find our hours of operation. We look forward to seeing you soon!
The Libby App
With over 800k app store reviews, Libby is used by millions of library patrons all over the world to enjoy ebooks and audiobooks from their public libraries. The Libby App by Overdrive offers: Ebooks, Audiobooks, and Magazines. Enjoy up to ten items at a time with a new, easier to use app!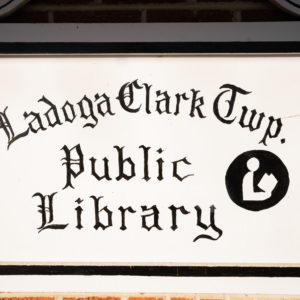 Our Staff
Debbie Clapp, Director
Norma Pulliam, Library Clerk
Katy Yoakum, Summer Reading Help
WE ARE HIRING! Check the Contact page for more information.
Library Board
Larry Mckinstry, President
Karen Craig, Vice President
Janet Hubble, Secretary
Holly Reed, Treasurer
Jennifer Colbert, Member
Jenna Livingston, Member
Jay Prosser, Member
The board of trustees meets on the last Tuesday of each month at 5:30 pm in the library.
NO MORE LIBRARY FINES!
For more information, see our Catalog page or call/e-mail us.